Dragon Ball Family Guy: It's Over 9000!
(abbreviated DBFG or simply referred to as It's Over 9000!)
is an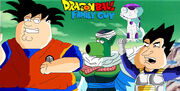 upcoming Youtube parody series created by LeeHatake93 and mlbjunior93. It is a parody of
Dragon Ball Z
in the style of
Family Guy's Star Wars
parodies:
Blue Harvest, Something, Something, Something, Dark Side,
and
It's A Trap!,
and will also contain references of TeamFourStar's
Dragon Ball Z Abridged
. The parody also includes character personalites from shows other than
Family Guy,
such as:
American Dad!, The Cleveland Show, Beavis and Butt-Head, South Park, Futurama,
and many others.
The exact release date is unknown as of now.
Story
Set in a live-action Family Guy universe (non-canon to Fox or Seth MacFarlane), the story begins when Peter Griffin (LeeHatake93), Joe Swanson (bigmac5515), and Glen Quagmire (tnt2crazy) are watching a commercial for Apple's new product, the iHuman (commercial made by mlbjunior93), when the power cuts out again. After a conversation regarding which trilogy he plans to parody after completing Star Wars, Peter decides that instead of a film trilogy, he plans to parody an entire series. After some thought, he finally decides on Dragon Ball Z and once he hums the intro to Dragon Soul the parody begins.
Known Cast (Characters)
Peter Griffin (Animated): Goku
Lois Griffin: Chi-Chi
Meg Griffin: Dodoria
Chris Griffin: Gohan
Stewie Griffin: Goten (Buu Saga)
"Evil" Stewie Griffin: Frieza
Brian Griffin: Piccolo
Mickey McFinnigan: Bardock
Francis Griffin: Grandpa Gohan
Connie D'Amico: Bulma
Herbert: Master Roshi
Beavis: Tien
Butt-Head: Yamcha
Chiaotzu (TBA)
Krillin (Parody of TFS Version)
Thaddeus Griffin: Raditz
Glen Quagmire (Animated): Vegeta
Joe Swanson (Animated): Nappa
Opie: Saibamen
Rallo Tubbs: Trunks
Genie: Shenron/Porunga
Cast (Voice Actors)
LeeHatake93: Live-Action Peter Griffin, "Previously On" Narrator, Krillin, Turles, Raditz, Naruto Uzumaki, various others
mlbjunior93: "Next Time/Story" Narrator, various others.
ironman0919: TBA, Filmer for Live-Action segments
tnt2crazy: Live-Action Quagmire, Farmer, TBA
bigmac5515: Live-Action Joe Swanson, TBA
Riahtdragon: Bulma, Dodoria, various female voices