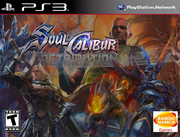 Soul Calibur: Retribution
is a hypothetical game created by LeeHatake93 for Namco's
Soul
series of video games. The game would be a spin-off to
Soul Calibur V
, similar to
Soul Calibur: Broken Destiny
to
Soul Calibur IV
, and would be released for PlayStation 3, PlayStation Vita, and Xbox 360.
Story
The story takes place shortly after the events of Soul Calibur V. No more information is known at this time, altough unlike previous titles, the guest characters would have a large role in their own stories within the game.
Gameplay
The gameplay would be taken directly from Soul Calibur V, although the "Critical Finish" mechanic would return from Soul Calibur IV.
Game Modes
Modes include:
Story Mode
Offline Modes:

Arcade
Quick Battle
VS Battle
Team Battle
Training

PlayStation Network/Xbox Live
Creation
Options
Characters
Italic parenthesis () indicate a character's alternate forms- different skins with altered fighting styles.
Soul Calibur:
Siegfried
Nightmare
Mitsurugi
Ivy
Maxi
Kilik
Hilde
Tira
Voldo
Astaroth
Raphael
Dampierre
Rock
Setsuka
Xianghua
Yun-Seong
Seong Mi-Na
Talim
Cervantes
Lizardman
Yoshimitsu
Algol
Edge Master
Patroklos (Alpha Patroklos)
Pyrrha (Pyrrha Omega)
Natsu
Z.W.E.I.
Leixia
Viola
Xiba
Guest Characters
Cole MacGrath (PS3/Vita versions)
Sephiroth (PS3 version/DLC for PSVita version)
Cloud Strife (PSVita version/DLC for PS3 version)
Master Chief (Xbox 360 version)
Stages
The following are the list of stages taken from Soul Calibur V, as well as a few that return from Soul Calibur IV.
Anicient Citadel: Under Siege
Astral Chaos
Astral Chaos: Crossing Paths
Conqueror's Colisseum
Cavern of Light and Drakness
Free Imperial City Center
Free Imperial City: Old Quarter
Free Imperial City: Castle Outbreak
Fu-Ma No Sato: Mechanical Spider
Luoyang: Grand Festival of Guandi Temple
Sacred Mt. Fuji: Sidestream
Shrine of the Snake God Palgea
Sinking Merchant Ship
The Adrian
Tower of Glory: Good and Evil
Tower of Glory: Spiral
Tower of Remberance: Degradation
Torture Chamber
Tranquil Wasteland
Valentine House: Private Mansion in Prague
Unknown Forest
PlayStation-Only Stages
New Marais: Ice Tower
Temple of the Ancients
Edge of Madness
Xbox 360-only Stage:
The Halo: Installation 04
Gallery